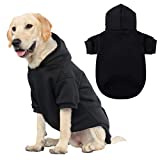 KOOLTAIL Basic Dog Hoodie – Soft and Warm Dog Hoodie Sweater with Leash Hole and Pocket, Dog Winter Coat, Cold Weather Clothes for XS-XXL Dogs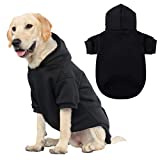 Price: $18.99 ($18.99 / Count)

Color: Black
Brand: KOOLTAIL



Features
Size:The Size of the dog sweater is XXL Neck Girth 22.4″,Chest Girth 34.6″,Back Length 29.5″,which is suitable cat and extar small puppy wearing.Before purchasing,please check the size chart and choose the proper size accoarding to the size chart.
Premium Soft and High Quality material:The dog is made with super comfortable acrylic with soft nap inside,which is not also breathable but also very warm.And the hoodie is very durable and not easy to be broken by your naughty furry friend,extensile material ensure that the sweater can not be tore broken by your pet.
Stylish Sport Clothes Design:This Hoodie Sweater is very stylish£¬it looks like a sport coats.Trust me,when your pet wearing it it will look very stylish and cool.
Machine Washable:This Hoodie Sweater is allowed to wash by wash machine,gentle wash in cold water,low terpreature drying or natural withering,and it will be as clean as new one.It's very easy to be cared of.
100% Satisfaction Service Guaranteed:We are determined to provide a soft, comfortable durable and high quality material pet suppies for our customer,so if you have any questions about the product,please feel free to ask us.
New from $18.99 ($18.99 / Count) (1 offers)