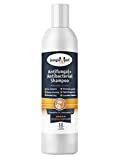 Jungle Pet Antiseptic Shampoo for Dogs & Cats with Ketoconazole Chlorhexidine for Hotspots, Ringworm, Itching, Irritation, Cucumber Melon Scent, 12 oz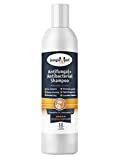 Price: $10.47 – save $7.43 (42%)!

Color: pink
Model: JP1024
Warranty: 2 year manufacturer
Brand: Jungle Pet



Features
ANTISEPTIC: Special hygienic wipes for the topical management of skin problems and dermatitis. Keep your Jungle Pet from itching and scratching pesky skin issues. Hunt down hot spots and ringworm for healthy skin, less scratching and more playing!
RELIEVE SKIN INFECTIONS: Skin issues such as hot spots, ringworm and acne in pets don't stand a chance against these wipes with Ketoconazole & Chlorhexidine. Speed up the process of healing skin irritations, superficial cuts, abrasions and insect bites.
INTO THE FOLD: Don't forget to cleanse hard to reach places such as face folds, finger folds, underarm and groin areas. It is so important to keep these often-overlooked areas clean. Astringent qualities also help to dry out affected areas.
HUNT DOWN THE PROBLEM: Our formula is specially designed to rid the kinds of problems that are most commonly associated with skin issues in dogs and cats. Bath time just became the most important time of the day!
PROUDLY MADE IN THE USA: Manufactured right here in the USA. Crafted in small batches to ensure quality and freshness.
New from $10.47 (1 offers)