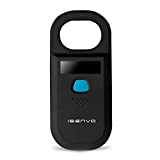 ISENVO Pet Universal Microchip Scanner Rechargeable RFID EMID Micro Chip Reader Scanner 134.2kHz/125KHz Standard FDX-B ISO11784/ISO11785 Pet Chip ID Scanner for Animal/Pets/Dogs/Cats/Pigs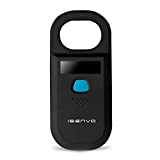 Price: $55.89

Color: Black
Brand: ISENVO



Features
[Pet Microchip scanner helps animals go home again] Pets are your little friends who accompany you every day, so you don't want to lose your pets and accidents. The pet scanner can help you accurately scan the pet chip code, and register the website https://isenvo.com/ to know the detailed location after it is lost;
【Easy to Operate Dogs Micro Chip Scanner】Universal Microchip Scanner Support ISO11784 / ISO11785 / FDX-B(15 digit microchips), No need to replace the battery, easy to operate, can be charged through the USB interface, It can last for more than one year after being fully charged,Video: https://www.youtube.com/watch?v=AK-xUe19X7I
【RFID reader operation manual】1. Press the pet microchip to start the device, enter the scanning mode, and start scanning the pet in the injection microchip scanner.2. Tags are scanned, the reader will enter the standby state. 3. Place a tag in the antenna loop and press the button to read. 4. Press the button to read the next label. 5. If no label is scanned, the device will automatically turn off after 180 seconds, or you can press and hold the button for 3 seconds to turn off the device.
【Backlight Screen】The handheld reader has backlight screen makes it convenient for you to read.The history data can be read in the internal reading mode.The history data can be read in the internal reading mode.
【Low Battery Tip and Portable 】Microchip Scanner Oled Automatically alarm when the battery level is lower than 7.8.Product size, 6 * 12 * 1.5cm(2.4 * 1.4 * 0.6 in), 120g(4.2 oz). It won't be tired to use it for a long time.
New from $55.89 (1 offers)