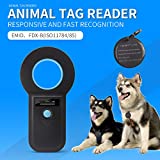 ISENVO 190i Bluetooth Pet Microchip Scanner Rechargeable RFID EMID Micro Chip Reader Scanner 134.2kHz Standard FDX-B ISO11784/ISO11785 Pet Chip ID Scanner for Animal/Pets/Dogs/Cats/Pigs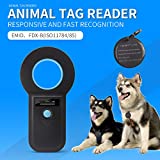 Price: $59.00

Color: 190i Bluetooth
Model: W90-WH
Brand: ISENVO



Features
❤ 【NOTE】The reader CAN NOT read Avid chips. The 9-digit ID cannot be recognized. Only the 15-digit international standard protocol (134.2 kHz) can be recognized.
❤ It uses a high-brightness OLED display, which can be clearly seen under strong light and is easy to read.
❤ This product is stable with simple operation which is widely used for little animal management, resource management, railway inspection etc.
❤ To view all our pet products (such as microchips, ID tags, toys, etc.), please click on our brand name ISENVO above the title of the product list.
❤ This animal tag reader supports for ISO 11784/11785, FDX-B and EMID, easy to operate, one button to read.
New from $59.00 (2 offers)