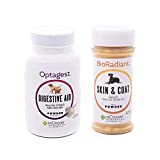 In Clover Optagest Daily Digestive Immune Support for Dogs and Cats (3.5Oz) & BioRadiant Skin and Coat Support Sprinkle-On Powder for Dogs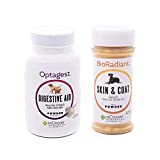 Price: $39.98

Brand: In Clover



Features
WORKS FAST – Optagest starts working immediately and is the only supplement to contain clinically tested levels of organic prebiotics plus four plant-based enzymes. This comprehensive formula goes to work right away, normally producing visible results in 1-3 days.
SCIENTIFICALLY FORMULATED – Optagest works with the body's natural processes. It contains organic prebiotics which serve as food for friendly bacteria in the gut. This targeted feeding promotes a healthy intestinal balance, allowing your pet's unique, native bacterial strain to thrive. The enzymes help to break down food so that the animal may fully digest the nutrients and absorb them into the bloodstream. BONUS: Optagest also breaks forn hair in the system – goodbye, hairballs!
PREBIOTICS in BioRadiant promotes "good bacteria" in the gut! Prebiotics are essential to good gut health, which can boost the immune system.
CLEAN FORMULA: BioRadiant does not contain artificial ingredients or colors, nor does it have any grains, wheat, corn, or soy.
100% MONEY BACK GUARANTEE – If your pet is dissatisfied, please contact the seller for a full refund.
New from $39.98 (1 offers)