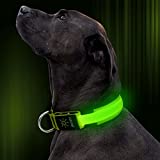 Illumifun LED Dog Collar, Nylon Adjustable Light Up Collar, USB Rechargeable Glowing Dog Collar Make Your Dogs Be Visible& Safe at Night(Green, Large)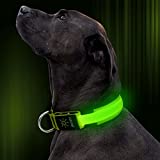 Price: $11.43

Color: Green
Brand: Illumifun



Features
★LED SAFETY DOG COLLAR – Illumifun LED dog collar is so bright and easily seen. It's made of nylon webbing with light guide which improves your dog visibility and safety.
★THREE GLOW MODES – It can be set to quick flash, slow flash or steady glow by pushing the button.
★RECHARGEABLE MICRO USB – The LED dog collar can be recharged by Micro USB cable with daily use devices. Charge time: 2 hours. Use 8-10 hours for slow flash, 6-8 hours for quick flash, 2-3 hours for steady glow.
★ADJUSTABLE DOG COLLAR – Each size of the LED dog collar can be adjusted with a buckle. Also it has a Heavy-Duty D-ring can be faultlessly connect with our led dog leash.
★AFTER SALE SERVICE – If you have any problem for this item, please feel free to contact us anytime, we'd glad to reply you within 24 hours.
New from $11.43 (1 offers)