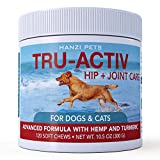 Hanzi Pets All New Formula Hip & Joint Care for Dogs Cats | Improves Mobility & Hip Dysplasia | Glucosamine, MSM, Chondroitin, Turmeric, Hemp | cGMP Certified | Made in USA | 120 Savory Soft Chews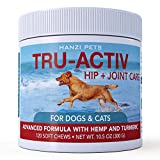 Price: $34.00

Color: Brown Chew
Model: 0900569.120
Warranty: Satisfaction Guarantee
Brand: Hanzi Pets



Features
HIGH QUALITY ADVANCED HIP AND JOINT CARE FORMULA of Glucosamine, Chondroitin, MSM, Hemp Seed Powder, Hemp Seed Oil, Turmeric, Boswellia Serrata to support a healthy joint function, anti-inflammatory and helps with pain due to arthritis and other joint problems.
ORGANIC TURMERIC, a powerful antioxidant, anti-inflammatory, antiviral, antibacterial, antifungal, and for wound healing. It helps relieve stiff joints, aids in healthy digestion; increases overall activity in dogs.
NO COOK PROCESS WITH NATURALLY BASED INGREDIENTS – all natural with nothing artificial added to our formulas. Our "no cook" production process for our soft chews ensures that we maintain the full integrity of each active ingredient, as well as the full flavor profile of each ingredient. We use as many nutritionally valuable ingredients as possible in our Tru-Activ formula to prolong the years we have with our pets. We value your pet's health.
WITH HEMP SEED POWDER AND HEMP SEED OIL, contains vitamins and essential fatty acids which can act as a powerful anti-inflammatory agent due to its balance omega-3 and omega-6 fatty acids. It is also an antioxidant, helping to protect cells from damage caused by free radicals.
MADE in USA, cGMP certified. Our Tru-Activ is produced in a FDA-inspected facility to ensure safety and quality.
New from $34.00 (1 offers)