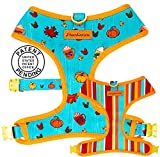 Frenchiestore Vet Approved Dog Harness No-Pull Pet Harness Pet Vest Easy Control for Medium Small Large Dogs Front Leading Harness | Pumpkin Spice Pupcup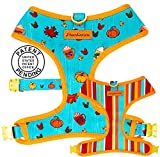 Price: $33.99

Brand: Frenchiestore



Features
【 VET APPROVED PATENT PENDING HEALTH HARNESS 】The Health Harness can help dogs that like to pull, along with those that have aggression and dominance issues. It is equally effective for canines with arthritis, mobility problems, and dogs receiving water therapy. Additionally it is beneficial for dogs with intervertebral disk disease (IVDD), those with a prior neck, back or spine injury, and blind or vision deficit canines that need guidance.
【 FITS MANY DOG BREEDS 】- Though the fit and fabric was meticulously designed for the French Bulldog breed, our Health Harness ranges in sizes XS-XXL and fits small dog breeds, medium dog breeds and large dog breeds such as: Pug dog breed, Boston Terrier dog breed, Bull Terrier dog breed, Dachshund dog breed, English Bulldog dog breed, American Bulldog dog breed, Cocker Spaniel dog breed, Labrador Retriever dog breed, Golden Doodle dog breed, Maltipoo dog breed, Beagle dog breed and much more.
【 EASY TO USE 】- This hassle-free overhead harness is easy to put on and take off with its 2 Fast-release Buckles. SLIDE the harness over your dog's head, BUCKLE it up, ADJUST the straps, and here you go! Lightweight and easy to clean. Reversible dog harness featuring 2 unique prints which can be interchanged in seconds with ease.
【SAFE AND DURABLE 】- Double breakaway indestructible buckles with the latest safe technology.
【 DUAL D RINGS FOR NO PULL, NO CHOKE WALK 】- Our non-pulling dog harness is specially designed with 2 Metal Leash Rings for safer dog walks. Use the FRONT D RING attachment clip to stop your dog from pulling on walks, perfect for dog training or dogs who tend to pull. The BACK D RING is great for casual walks, jogging, hiking, etc.
New from $33.99 (1 offers)