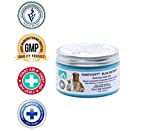 Forticept Blue Butter Antimicrobial Gel, Antiseptic Hydrogel Dogs Wound Care, Dogs & Cats for Skin Infections, Rashes, Sores, Wounds, Burns | 4 OZ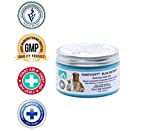 Price: $14.95 ($3.74 / Ounce)

Color: Blue
Model: FG01315
Brand: Forticept



Features
FIRST-AID SOLUTION FOR BETTER WOUND CARE: Keep Blue Butter wound treatment gel on hand for all your pet's first aid and skin care needs. Forticept utilizes unique technology to power Blue Butter anti itch gel for the best way to treat cuts, scrapes promote the healing of wounds, sores, rashes, and resolve various skin infections, including canine pyoderma, acne, yeast infection, ringworm. Blue Butter is an effective dogs wound treatment.
PROMOTES HEALING: Blue Butter hot spot treatment gel effectively disinfects wounds and creates an optimal environment for ultimate healing. Blue Butter dogs wound care ointment helps prevent skin infections in acute wounds. Safe to use for continues applications on any area of the skin. Starts working after the very first application.
COMPLETELY SAFE AND NON-TOXIC: Blue Butter is a safer alternative to antibiotics and steroids for proper wound management. The non-toxic pH-balanced formula is safe for the entire family, from newborns to elderly adults, in addition, it is safe enough to use around sensitive areas like ears, nose, and mouth.
GENTLE NONE IRRITATING WOUND DRESSING: Blue Butter has no alcohol, iodine, or any other ingredients that would cause burning, stinging or irritation during application. Veterinars recommende for dogs wound care and ringworm treatment. Effective wound treatment for dog.
CLINICALLY PROVEN AND VETERINARY DOCTORS RECOMMENDED: Blue Butter uses similar active ingredients, to what is currently being used in numerous veterinary clinics and animal hospitals, helping veterinarians, and pet owners, successfully manage complex skin and wound infections.
New from $14.95 ($3.74 / Ounce) (3 offers)