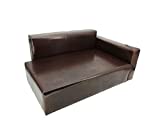 FixtureDisplays Dog Sofa Bed Brown PU Leather Recliner L Lounge Chair Couch Seat Chaise 30x20x13 Seating Area is 27×16″ Great for Smaller Dogs 10058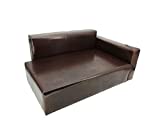 Price: $83.75

Color: Brown
Brand: FixtureDisplays



Features
Contemporary Chocolate Brown PU Coated Synthetic Leather Dog Sofa, Bed, Couch, Chaise or Cat Seat. This pet couch features simple 3-piece design. Be sure to check size of the bed to ensure your dog fit. The seating area is 27×16″. Meant for smaller dogs. Measure your dog and make sure the torso fit the 27″ length. Bottom of sofa has glides. When not in use three pieces fits into the main tray for easy stow-away.

The cute lounging seat may also attract your toddlers, so beware of competition for this lovey piece of furniture. This dog sofa weighs 26 lbs. Makes a wondeful gift for your beloved best friend.

Dog bed is lined with memory foam for comfort. Foam is tightly covered and stretched for clean and crisp look. Use a blanket for added softness and warmth if desired. PU coated surface is easy to clean. Sold MDF Wood frame construction. Brown color blends well with most household furniture. Easy assembly required.
Dimensions: 30″ Long x 20 "D x 13″H. Seating area dims: 18″ at widest spot, 12″ deep front to back, 8.5" high at highest point.
For your convenience here is a link to assembly video: https://youtu.be/p4PpbJPO6yY. You can also search"10058 Dog Sofa Pet Bed Reliner FixtureDisplays Furniture INSTRUCTIONS" on youtube to locate the video.You can also download video by following this link: http://www.fixturedisplays.com/video/10058.AVI
Shipping to Canada and Mexico: import duty and fees apply.
New from $83.75 (1 offers)