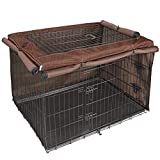 Explore Land Dog Crate Cover for 42 Inches Wire Cage, Heavy-Duty Lattice Pet Kennel Covers Compatible with 1 2 3 Doors Standard Metal Crate(Brown)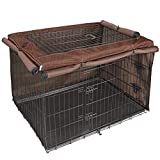 Price: $31.99

Color: Lattice Brown
Model: 10501405
Warranty: 1-year manufacturer's warranty.
Brand: Explore Land



Features
Dimension: 43 x 29 x 29 inches, universal fit for most brand 42-inch standard wire crate. Compatible with 1-door, 2-door, and 3-door wire dog crates with a top door.Zips on all four sides allows to the left, right, front and back panel opening.
Premium Material – Dog kennel cover is made of heavy-duty polyester with prismatic lattice pattern, which blocks most of the direct sun, cut off the cold wind. All-purpose protection provides privacy and security environment for pets.
Convenience – Easy to install and access from large zipper opening, plastic toggle locks will secure side panel within seconds when you roll-up.
Breathability Upgraded System – Top opening with roller shades to adjust visibility and ventilation. Hold the section side panel open to adding more breathable.
Stay in Place Design – All sides open the corners connect with toggles to secure the cover to the crate sufficiently. 1-years warranty by Explore Land.
New from $31.99 (1 offers)