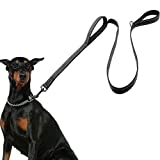 Eco-clean Dog Leash for Large Dogs, 2 Handles for Extra Control, 6 FT Long with Reflective Stitch for Night Walking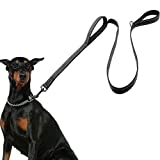 Price: $12.99

Color: Black
Model: leash01
Warranty: NO
Brand: Eco-clean



Features
Dual Handles: Extra 1 traffic handle close to the snap helps to shorten the reach to pull your pup closer to you.
Extra Durability: 6 Foot Long, 2 mm thick, 1 inch wide. Thicker and stronger than standard dog leashes.
Night Visibility: Reflective stitching keeps you and your dog safe and visible at night.
Padded Comfort: Both 2 handles are neoprene padded for ultimate control and comfort.
Great for medium to large dog breeds, may also work for some smaller dog breeds as well.
New from $12.99 (1 offers)