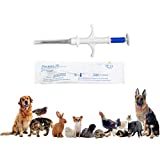 Ecare 20 Packs 2.12x12mm Dogs ID Microchip FDX-B ISO 11784/11785 Pet Cats Dogs Microchips RFID Glass Transponder Implant Kit for Pet Dog Cat with Syringe for Veterinary Management and Tracking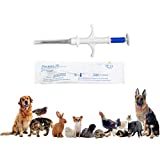 Price: $34.99 ($34.99 / Count) – save $5.00 (13%)!

Color: White
Brand: ECARE



Features
NOTICE any problem, please email us first, we will always be here for you.
FROM USA these dog microchips shipped from USA and you could get them in 1-5 days.
MICROCHIPS ALL FROM GERMAN Ecare pet microchips are all from German with special-coating, which makes sure a safe care for your lovely pets.
WITH WORLDWIDE UNIQUE ICAR CODE worldwide unique ICAR code could support pet travel abroad and tracking management.
New from $34.99 ($34.99 / Count) (2 offers)