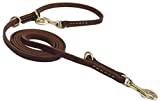 Durable Multi Function 8ft Dog Leash, Genuine Leather Leash Hands Free Leash Dog Training Leash for Small, Medium and Large Dogs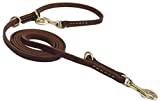 Price: $22.99

Color: Brown
Model: PET-SJA004
Warranty: 2 Years
Brand: Guiding Star



Features
Genuine and soft leather easily provides beauty, durability and comfort. All solid brass hardware for corrosion resistance.
Multi-use leather leash.Pet Leash for training your naughty puppy;double leash for walking two dogs at same time
Total length is about 7.5ft. Long leash is about 6.8ft, short leash is about 4ft. Width: 1/2 inch (0.5 inch).
Walk your dog hands free with the self-adjusting floating ring. Freely movable ring makes it easy to accommodate how you want to use it.
We offer 1 years quality warranty and 60 day unconditional return, please feel free to contact us if you have any questions.
New from $22.99 (2 offers)