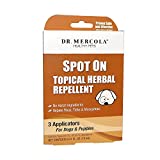 Dr. Mercola Spot On Topical Herbal Flea & Tick Repellent for Dogs, 3 Applicators (3 Month Supply), 100% Natural Formula with Geraniol and Essential Oils, Safe for Humans, Suitable for Puppies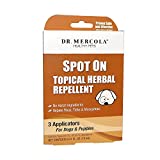 Price: $16.97

Brand: Dr. Mercola



Features
Each Container of Spot On Topical Herbal Flea and Tick Repellent for Dogs Contains 3 Applicators
Following Dr. Mercola's belief in providing the best quality products, this product contains NO harsh ingredients
Spot On Topical Herbal Repellent for dogs and puppies has NO harsh ingredients, and offers protection for your dog.
Each dose easy to apply and has a fresh, minty smell, which lasts roughly one month. This formula contains essential oils that work to repel insects, and there is no need to reapply after your pet swims or goes out in the rain.
All Dr. Mercola products are backed by a full 30-day money back guarantee. If for any reason you are not satisfied with your purchase, simply return it to us for your money back – no questions asked.
New from $16.97 (3 offers)