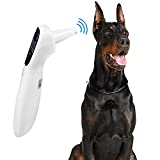 Dog Thermometer Non Contact, Ear Thermometer for Dogs and,Vet Thermometer,Fast Measure pet's Temperature in 1 Second,12 Month Warranty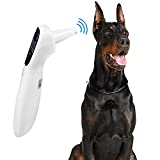 Price: $41.99

Brand: MINDPET-MED



Features
Animal-friendly No Contact Thermometer: Pet ear thermometers are less invasive, but are still a reliable way to measure your dog's temperature. It measures infrared heat waves emanating from the area around the eardrum. A thermometer is placed deep into the horizontal ear canal to get an accurate reading. Please read all instructions carefully before use. Also be careful not to use glass thermometers.
Long probe is only suitable for pets, livestock, dogs, cats, rabbits, pigs, cattle, sheep, horses, etc. It can be placed deep in the ear canal to obtain more accurate degree. Note that this thermometer is not designed to measure human temperature.
1 second quick measurement of the dog's ear temperature,High accuracy within 0.2C/0.36F,℃ and °F switchable, easy to read.LCD display & Memory function
A circular LED light surrounds the probe of the pet ear thermometer, which can be used to measure ear temperature at night or in dark environments, such as outdoors.
Customer Satisfaction Guarantee:12 month warranty, 7×24 service. The thermometer ships from a US warehouse. The warranty period of the product is one year.During the warranty period,if the product fails due to poor quality of the origianl device or manufacturing problems the company will provide free maintenance and replacement.
New from $41.99 (1 offers)