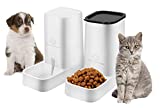 Dog or Cat Automatic Feeder Water Dispenser Set, Food Bowl Cat Food Container for Small, Medium and Large Cats and Dogs Food and Water Distribution(2 PCS)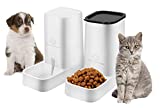 Price: $32.99

Color: White
Model: Pawzone
Warranty: 2
Brand: Nuluphu



Features
Automatic cat feeder and cat water dispenser set are made of PP resin material. Safe and reliable for your pets to enjoy fresh food and clean water.
Configuration: 1 gallon capacity pet water dis penser, 4.6 pounds capacity And pet feeder. Small size, large capacity; simple appearance can easily match your house style.
The cat and dog water dispenser uses the siphon principle to automatically replenish water, and the gravity replenishment of pet food storage does not capture food.Make pets more hygienic to ensure health.
The automatic dog feeder has humanized separation design, detachable parts, simple structure and easy to clean.
Dog cat feeder automatic can help you take care of kittens and puppies while traveling or working,Don't worry about pets being hungry.
New from $32.99 (1 offers)
Used from $29.65 (3 offers)