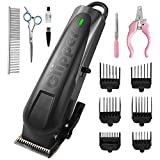 Dog Clippers High-Performance,Cordless Professional Dog Grooming Supplies Rechargeable Pet Clippers Heavy-Duty Electric Dog & Cat Grooming Kit for Small & Large Breeds with Thick to Heavy Coats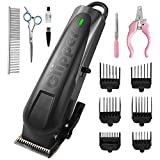 Price: $32.99 ($32.99 / Count)

Color: Black
Model: K52NTS
Warranty: 5 Year Limited Warranty
Brand: Haokry



Features
Cordless/Corded with Longer Operation Time: The powerful pet clipper, with 110-240V dual-voltage and a rechargeable 2500mAh Li-ion battery, runs up cordless to 240 minutes after a full 3-hour charge.If you use the dog clippers corded, It keeps it all day long.With a 1000mA power cord for a quick charge.The dog hair clipper is suitable for family or professional pet barbers.
Self-Sharpening Precision & Safe Blade:This dog clippers self-sharpening stainless-steel blades remain sharp for smooth grooming that creates a snag-free cutting and pleasant experience for your pet. R-shaped clog-proof blades will make your pets safer. Pro quality at home means fewer trips to the professional dog groomer,At the same time, this pet shaver is also suitable for professional pet beauticians. The high-power shaver makes your work more efficient.
Powerful and quiet haircut motor: equipped with a 5500rpm 5W heavy-duty motor, you can easily and efficiently cut all kinds of pet hair. The noise is less than 60 dB, which will not cause fear of pets. Dog grooming clippers for thick coats with Heavy-duty gear for proper powerful cut, with stable and steady control. This dog hair clipper provides substantial power and speed without producing additional heat or noise to keep pets calm and enjoy grooming.
Adjustable Hair Cutting Lengths: Trimming length of hair trimming is easy to be adjusted with the integrated taper lever from 0.5mm to 3 mm without guide combs. 6 attachment guides come inside the cordless hair clipper package, including 3mm, 6mm, 9mm, 12mm.
2-Color Light Indicators: To check the remaining battery power, the rechargeable hair clipper shows it by light colors. The blue light on when operating/connect to charging/fully charged. When the clipper battery is lower than 15%, the indicator turns red.
New from $32.99 ($32.99 / Count) (1 offers)