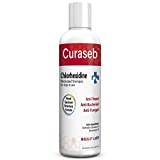 Curaseb Antifungal & Antibacterial Chlorhexidine Shampoo for Dog & Cats – Treats Yeast Infections, Ringworm, Pyoderma & Skin Allergies – Broad Spectrum Veterinary Formula (16 oz)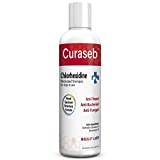 Price: $19.95 ($2.49 / Fl Oz)

Model: 3165810128
Brand: BEXLEY LABS



Features
★ ELIMINATES YEAST, BACTERIA, FUNGUS, PYODERMA AND RINGWORM: Chlorhexidine and Ketoconazole Combine to Create a Super Effective Antifungal & Antibacterial Shampoo that Treats a Broad Spectrum of Skin Related Problems In Both Dogs & Cats
★ DEODORIZES & GENTLY CLEANSES SKIN: Our Veterinary Recommended Shampoo Will Eliminate the Smelly Musty Odor from Your Pets Skin Caused by Unwelcome Visitors (Yeast, Bacteria, and Fungus) While Leaving Behind a Pleasant and Refreshing Cucumber Melon Scent
★ VETERINARY STRENGTH FOR LESS MONEY: Compare Our Active Ingredients To Other Name Brands. Curaseb is the Same If Not Better Quality Than Other Leading Competitors. Why Pay More For a Name?
★ MADE IN THE USA: All Bexley Labs Products Are Proudly Made in the USA in a Federally Regulated & Inspected Laboratory to Ensure Quality and Safety. Our Pets Deserve the Best!
★ PAWS PROMISE: We Are So Confident in Your Satisfaction with Our Product That If You Don't Absolutely Love the Results You Get, Return it for a Full Refund. Even if the Bottle is Empty. There is No Risk; You have Nothing to Lose.
New from $19.95 ($2.49 / Fl Oz) (1 offers)