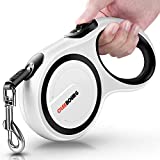 CLEEBOURG Upgraded Retractable Dog Leash, Heavy Duty Pet Walking Leash with Anti-Slip Handle, 16ft Strong Anti-bite Nylon Tape for Medium Large Dogs up to 110lbs, One Button Lock & Release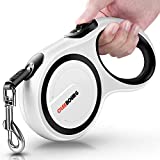 Price: $10.99

Color: As Shown
Model: MS-708
Brand: CLEEBOURG



Features
ONE BUTTON BREAK & LOCK:Easy to use, release and recoiling system,16 FT long leash would let your dog free to go but be controlled by your thumb.
ABRASIVE & DESLICKING MATERIAL:This retractable leash surface is made of abrasive plastic material, anti oily, comfortable feeling. The handle is made of soft deslicking material,when dog is pulling,it would not hurt your hand.
SUITABLE SIZE & HEAVY DUTY: This retractable dog leads size:7 x 4.5 x 2 inches, 20.1 ounces,suitable size to put it in your bag, besides, it can burden medium large dogs up to 110lbs
MORE SMOOTH &MORE FREEDOM: The rugged nylon back has a renewed mouth design. With the powerful upgrade spring and anti-winding rope, the dog leash can be smoothly retracted and released at any angle, giving your pet plenty of room to enjoy free.
WAHT YOU GET: a retractable dog leash, 24-hour Professional service Center and 24/7/365 technical support.
New from $10.99 (3 offers)