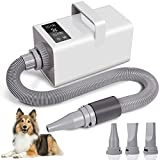 Clawsable LED Intelligent Touch Screen Dog Dryer Blower, 3.2HP High Velocity Professional Dog Hair Dryer with Precise Temperature Control System, Dog Blow Dryer with 3 Nozzles and Shower Massage Glove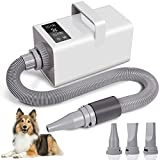 Price: $99.99

Color: Black
Model: FP121BK 4 RG
Brand: clawsable



Features
🐕‍Intelligent Touch Screen – Different from other button-type pet dryer on the market, Clawsable dog grooming dryer adopts intelligent touch screen to make your life more fashionable and convenient. Temperature and wind speed can be clearly displayed on the LED screen.
🐕‍Unique Anion function – The Clawsable dog grooming dryer blower has a unique negative ion function key. With just one tap, there will be tens of millions of negative ion wind blowing out, taking care of your pet's hair and making it soft and fluffy.
🐕‍Powerful Blow Force & Adjustable Speed – Professional pet hair dryer equipped with a powerful and stable motor (2200W / 3.2HP). Wind speed and temperature (30℃/95℉~60℃/140℉) can be easily and accurately adjusted. Built-in temperature control protection system, if the temperature is too high, it will stop heating immediately. Give your lovely pet a thorough dry after shower.
🐕‍Reduce Noise & Heat Insulation – Developed a unique air duct design and noise reduction structure, which is 5-10 decibels lower than similar products when used. Thickened compound hose to resist high temperature. Thickened filter to resist dust. Anti-slip device at the bottom of the water blower to prevent falling. Ergonomic insulated handle protect your hand from scalding, more comfortable to use.
🐕‍Package & Superior Service – 1 x Dog Dryer, 3 x Nozzles, 1 x Flexible Hose, 1 x Shower Massage Glove, 1 x User Manual. If you have any questions before purchasing or encounter any problems after purchasing, please do not hesitate to contact us at any time. We will provide you with a solution within 24 hours.
New from $99.99 (1 offers)