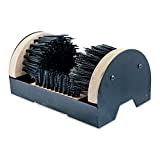 Cadillac Boot Scrubber Cleaner Shoe Brush – Mountable Boot Scrubber Buffer for Boots, Shoes, Sneakers – Indoor/Outdoor Boot Scraper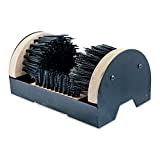 Price: $19.99

Color: Natural
Model: BIC10FPR775
Brand: Cadillac



Features
GET RID OF DIRT AND MUD: Prevents build up of dirt, grass, leaves, salt and snow on shoes and removes dirt. Helps preserve shoes longer by blocking build-up in shoe stitching
ALL-IN-ONE SCRUBBER, SCRAPER, CLEANER: Mountable Brush removes large clumps first with sole & edge scraper. Strong bristle brushes clean mud and snow off footwear.
CLEANS ALL FOOTWEAR: Effective for boots, shoes, and sneakers. Also works great for athletic shoes, cleats, golf shoes & spike cleaner.
PORTABLE: Easy to use for all ages. Indoor & outdoor boot scrubber perfect for home, automobile, yard, any and all doorways. Mounting not required.
DURABLE: Steel and hardwood construction. Rust resistant for outdoor use. Includes instructions on bottom.
New from $19.99 (1 offers)