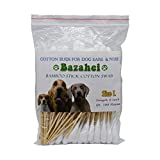 Bazahei Dog Ear Care 6 Inch Cotton Buds Bamboo Sticks,Professional Large Cotton Buds for Dogs, 100% Cotton (L Size)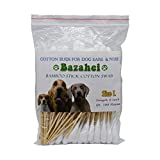 Price: $12.99

Color: white
Brand: Bazahei



Features
EAR INFECTIONS Are the One of the Top Reasons Pets Are Taken to the Veterinarian. Keep Your Pets Ears Clean and Healthy to Avoid Costly and Avoidable Vet Visits.
Dog swab:To Work Quickly and Effectively to Clear Up Ear Infections for your Dog or Cat.6 Inch Professional Large Cotton Buds for Dogs, Fungus and Bacterial Build up in Your Pets Ears.
First aid cotton: A natural cotton bud suitable for any first aid to pets. Clean the wound and help to remove the discharge,To remove secretions, use a natural cotton swab to gently wipe the area around the eyes or nose.
SAFE, TRUSTED : Every batch is made locally and tested to ensure your dog stays safe and enjoys a longer, happier life. Deodorize and Dry Your Pets Ears
Natural Material:We use natural and safe ingredients, reduce the odor and leave a pleasant smell while reducing the discomfort caused by shaking the head, scratching, claws and yeast and other bacterial infections.
New from $12.99 (2 offers)