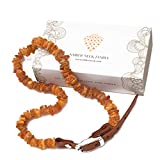 Baltic Amber Collar for Dogs and Cats. The Power from The Nature Best Natural Protection for Your Lovely Pet 100% Natural Raw Amber Collar with Adjustable Brown Leather Strap (8-10) (LuxUs2025)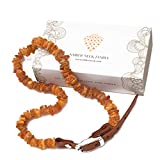 Price: $18.95

Color: Honey Brown
Model: CVSDAW4
Warranty: None
Brand: Amber Neck



Features
MATERIALS: This model is 100% handmade with the top quality of amber beads and natural leather. The natural leather strap is handcrafted in Lithuania and the metal strap came from Germany, which means they both will last forever. The leather strap has five holes which will give your pet the best fit ever.
THE POWER: Does it really work? Probably this question must be answered first. Isn't it? We want you to be sure that yes it really works. How? It is not a magic or a bluff it is physics and chemistry. There two ways in which natural raw amber beads helps to protect your pet. The first is a slight electric charge which comes from friction when amber beads rub into pet's fur. Another way is the aroma substances. Baltic Amber beads contain terpenes. In both ways, be sure you will feel neither elec
SIZE: First of all, you should measure your pet's neck, make sure you have a little gap between the measurement meter and your buddy's fur. Select the right size in the size box and keep in mind that our collars have an adjustable real leather strap of five centimeters.
CARE INSTRUCTION: First of all, we highly recommend to wash it twice a week in warm season. When amber beads get dirty it loose all its power and beauty. Sometime you will not see the dirt on it, but it will be oily and sticky, please check it as often as you can. How to wash it? It is simple just put it under the running water use some natural soap and rub it for a minute, leave it to dry and put it back on your pet's neck. By the way, please keep the collar on your pet always, do not remove
DURABILITY: Actually, it always depends on your pet. If your pet is not that active and playful the collar will last very long, otherwise, it should last for one season at least. Take into account that some of the amber beads will fall out as amber itself is not that strong, but you should change the collar only when 30% or more of amber beads felt out.
New from $18.95 (1 offers)