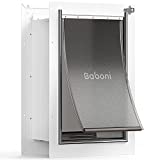 Baboni Pet Door for Wall, Steel Frame and Telescoping Tunnel, Aluminum Lock, Double Flap Dog Door and Cat Door, Strong and Durable (Pets Up to 100 Lb) -Large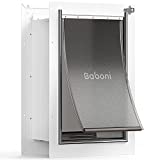 Price: $129.95

Color: White
Model: AWXL
Warranty: Limited lifetime warranty when purchased from a petsafe authorized retailer. For more information, please visit the petsafe store.
Brand: baboni



Features
FREEDOM AND INDEPENDENCE: Give your cats and dogs freedom to go in and out without your help, arrangement for potty breaks or play time by themselves.
DIMENSION AND TELESCOPING WIDTH: The telescoping tunnel accommodates walls that are 4 3/4 – 7 1/4 in thick.Flap Opening: 10 1/4″W x 16 1/4″H. Frame: 14 1/4″W x 21 1/16″H. Cutout in wall:12″W x 18 7/8″H.
EASY INSTALLATION: This pet door easily installed in all types of interior and exterior walls; cut-out template and step-by-step instructions are included, simple to follow instructions walk you through the install.
DURABLE, SAFE AND ENERGY-SAVING:This Pet Door frame is made of 100% metal laser welding process and high-quality steel aluminum alloy oxidation to ensure durability,security and thermal insulation. The double-flap provides weatherproofing and energy efficiency and helps protect against extreme weather, air drafts.
TAILORED FOR YOUR PET : Flap opening is 10 1/4″ W x 16 1/4″ H and is designed for pets up to 100 pounds.
New from $129.95 (1 offers)