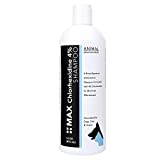 Animal Pharmaceuticals MAX Chlorhexidine (4%) Medicated Shampoo – Formulated for Dogs, Cats, and Horses – Broad Spectrum Deep Cleansing Treatment for Common Skin Conditions – 16 Fluid Ounces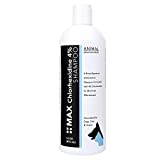 Price: $19.99 – save $20.00 (50%)!

Model: DM152 91
Brand: Animal Pharmaceuticals



Features
Gentle Medicated Formula Delivers Maximum Strength Results: 4% Chlorhexidine Gluconate is vet-recommended for therapeutic use in dogs, cats, and horses experiencing skin-related discomfort.
Powerful Vet Formula Dog Shampoo Cleans and Deodorizes: broad spectrum active ingredient targets the source of bad odor and skin irritation in this dog shampoo with Chlorhexidine.
Easy-to-Use Maximum Chlorhexidine Shampoo: a simple application method makes treatment with this vet shampoo for dogs a breeze. Wet skin and fur, massage into lather, let sit 5-10 minutes and rinse.
Gentle on Sensitive Skin and Tough on Uncomfortable Skin Conditions: for irritated skin, this non-drying Chlorhexidine shampoo for dogs cleanses deeply and provides long-lasting skin protection.
Proprietary Pharmasome Technology Dives Deep Below Skin's Surface: to deliver the Chlorhexidine Gluconate 4% your pet needs to the source it is captured in nano particles for deeper penetration.
New from $19.99 (1 offers)