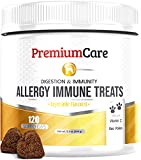 Allergy Relief Immune Supplement For Dogs – Made In USA – Treats Allergies, Skin Itch, Hot Spots And More – Provides Itch Relief, Promotes Skin & Coat, & Improves Digestion – 120 Chew Treats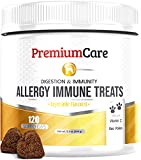 Price: $24.96

Model: GI01340
Brand: PREMIUM CARE



Features
✅ RELIEVES 99% OF DOG ALLERGIES – Our natural allergy immune treats have been shown to alleviate 99% of dog allergies including seasonal, skin, environmental and food allergies.
✅ BOOSTS IMMUNE SYSTEM – PremiumCare Allergy Immune Treats are grain-free chewable treats that contain a blend of digestive and immune-boosting ingredients that promote a healthy response to food, skin, and environmental allergies.
✅ NATURAL ALLERGY RELIEF – Our Allergy Immune Treats relieve your dog of allergies using natural ingredients like bee pollen, vitamin C, organic licorice root, colostrum, and kelp.
✅ NOURISHING NATURAL INGREDIENTS – These chewables contain Colostrum, a pre-milk liquid that supports allergies, immune function, and digestion, along with Vitamin C and Organic Licorice Extract for additional support.
✅ RISK-FREE GUARANTEE: Try our allergy relief chews for 30 days, if you do not see a difference in your dog, simply return them for a 100% no-hassle refund.
New from $24.96 (1 offers)