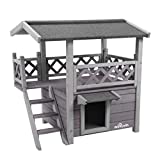 Aivituvin Wooden Cat House Outdoor and Indoor,Feral Pet Houses with Stairs for Cats Insulated, Weatherproof Roof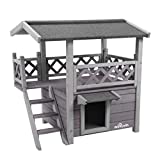 Price: $99.99

Color: Grey
Model: DHW101839M
Warranty: 1 year manufacturer
Brand: Aivituvin



Features
Waterproof Asphalt roof and extend small roof of the door are perfect for indoor and outdoor use. Your pets will enjoy the sunlight .
100% solid Fir wood of this wooden pet house with water based painting. ECO-friendly to protect your small animals.
The Cats Condo designed with balcony,rest room and side stairs, provide comfortable playing and sleeping room.
Highest quality craftsmanship cat house Uniform surface,the floor is laying Flat.
Each part is stamped seperately, all the screw holes are aligned properly to be easy assemble.
New from $99.99 (1 offers)