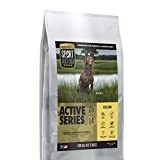 Active Series Field Dog Chicken Formula, Peas and Flax Free Dry Dog Food, 30 lb. bag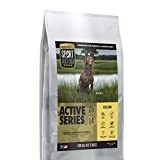 Price: $59.95 ($2.00 / lb)

Color: Nude Exposed
Model: 084282929068
Warranty: 1 year manufacturer
Brand: SPORT DOG FOOD



Features
1st ingredient: high protein, low ash, US Chicken Meal.
Legume-free. Absolutely No Peas!
29% protein, 15% fat, 483 kcal/Cup
High natural taurine from animal sources.
USDA Grade, Gluten Free, Texas harvested grains.
Pumpkin to regulate digestion, ensure firm stool.
Trumune, 100% natural yeast culture, has been proven to help manage stress, inflammation, and sensitive stomachs.
Propath organic trace minerals have been shown to improve digestive health and skin integrity.
Positively higher kcals plus upgraded organic trace minerals, promoting greater absorption, will unquestionably lead to lower feeding amounts.
New from $59.95 ($2.00 / lb) (2 offers)