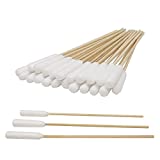 6 Inch Long Cotton Swabs of Medium and Large Pets Ears Cleaning or Makeup 100pcs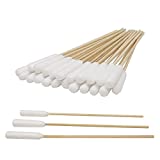 Price: $11.99 ($0.12 / Count)

Color: 6″ 100pcs
Model: COTTON
Brand: Quanzhou Chenchenchen E-Commerce Co.,Ltd



Features
[Large size] 100pcs 5.9 inches long with a 1.57 inch cotton head, which can clean the depths of pets' ears. get all the dirt and debris out from dog ear canal.
[Material] The cotton swab is made of natural bamboo and selected soft cotton, which is not easy to break.
[Great Absorption] The soft cotton has super hygroscopicity, can quickly absorb water, large cotton buds allow you apply medicine and clean at one time.
[High-quality] Spiral cross-wound, to ensure that the cotton head will not fall off easily, the specially lengthened cotton head cannot pass through the dog's ear canal, nor can it touch the deep part of the ear, safe for your puppy.
[Use] This is not just a pet cotton swab, it can be used to make-up,clean up oil stains.
New from $11.99 ($0.12 / Count) (1 offers)